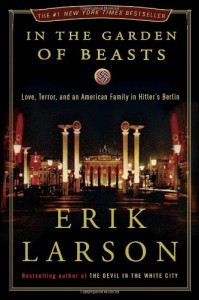 I finished "In the Garden of Beasts: Love, Terror, and an American Family in Hitler's Berlin" by Erik Larson. I both liked it & didn't like it (which is how I also felt about Larson's book "The Devil in the White City").
What I liked: Learning details about people & events I didn't know that much about; more knowledge about history, esp. a closer look at Berlin & some of the people there, what the city was like, etc....
What I didn't like: The subtitle indicates that the book is about a family, but the book really focused on Dodd & his dd; his wife & ds were mentioned but often missing from the narrative. I don't know if that's because there was less documentation on them or just because the author felt they were less interesting to the story. Also, there were some things he mentioned that seemed relevant to the story (using a local Jewish doctor's home for their residence/office, while the dr. & his family resided upstairs) -- what happened to the family? Did the next ambassador continue to live in that location or not? Sometimes it seemed like a mish-mash of assorted facts, letters, and so on, but not necessarily connected or flowing together very well. Also, he did a year or so in depth, then had a couple of jumps in time to give short descriptions of later events. It made things feel very uneven, I think. Etc....